On Thursday, August 17th the SO and I left for Vegas - we go each year around the time of our anniversary (15 years!) and pop into the Star Trek convention. This year's con was the 40th Anniversary celebration of Trek. We didn't attend many of the events or spend much time in the main hall with all the dealers but we did attend the James Darren concert Saturday night. It was too crowded and too short for the price ($50 a ticket to sit half-way to the back of a very large room).
We did eat a couple meals at Quarks - here I am at dinner, wearing the SO's favorite hat.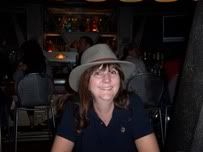 This might be the last Star Trek con for us for a while. There are other things in Vegas to do. For example, while we were there I discovered that my SO had been
reading up on all the rules
for
getting married in Vegas
.
After that surprising revelation I decided not to let a good opportunity slip through my fingers and enthusiastically agreed that we should get in a cab and go get our marriage license from the court house.
We left and
almost
avoided a group of folk who were pigeonholing the newly licensed with brochures about their wedding chapels by walking up the street to the
Golden Nugget
. Only one guy had scoped out that side of the building and we basically ignored him and walked briskly (in the 100 degree heat, so we didn't walk briskly for long) to the Golden Nugget to catch a cab. We popped inside to see what it was like and were impressed at how nice and clean and classy it looked. If it weren't downtown I think we'd enjoy staying there, but we like the Strip.
The next day I got up and went down to the casino for a smoke and played the slots for a bit. When I got back upstairs the SO was awake and showered. I said I'd jump in to take mine then so he said he'd head down to the blackjack tables and I should ponder where we'd actually get hitched. After I got out of the shower, I tried calling the Hilton to see if there was a snowball's chance in hell that the
Bridge of the Enterprise
was available.
One of the things I've said over the past few years going to Vegas for the Star Trek cons was that if he wanted to marry me in Vegas that's where I wanted it to be. However with the
40th anniversary con
going on they must have been really busy - all I got was voicemail. I decided to call the MGM Grand and reached a lovely lady named Lisa who said there was a time available that day at 2:00. It was still early enough for us to go find something nice to wear so I agreed to the 2:00 time.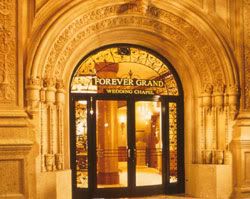 Turns out the SO wasn't playing blackjack, he'd gone over to the MGM and spoken to another lovely lady about the chapel (probably at the same time I was on the phone with her colleague) and he came back to the room with a bag full of brochures for the same place and the news that there was a spot open at 2:00. Since I'd already booked it, I'd say things worked out just great. When two people are on the exact same wavelength like that it just makes sense to get married, huh? We still had time to go shop at the Caesar's Palace shops and found our outfits at the Tommy Bahama store there, before we were due at the chapel. Here's my fiance (he got to be a fiance for about 35 minutes - we were within eyesight of the chapel when he said "I haven't formally proposed! Will you marry me? Do I have to get down on one knee?" I said yes to the proposal and no need to the knee thing. I think we were in front of a clothing store...)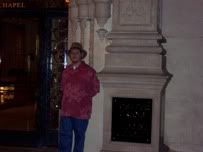 And that's how we ended up getting married at the Forever Grand Wedding Chapel at the MGM Hotel on Saturday, August the 19th at 2:00 p.m.
Here are the Newlyweds!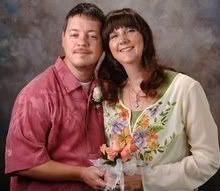 They offered to show our wedding on a live webcast but we declined, no time to get the word out that people might want to watch. We did buy the dvd and I'll be ordering our pictures soon, too.
On Sunday we drove from Vegas to L.A. and rested all day Monday. Monday night my daughter and her Sailor Beau drove up from San Diego so they could go to Disneyland with us the next day. I hadn't told her about the wedding yet - so on Monday we did a little grocery shopping and got two little white frosted cakes that we put out with the bouquet and the wedding certificate that the MGM gave us in a little album like cover out on the coffee table at the hotel. When I brought the kids up to the room she gave the stuff a puzzled look, then gave me that look that says "did you do what I think you did?" and started laughing. After she calmed down we took a couple pictures of Glenn and I feeding each other bites of the cake - at least we did one traditional thing!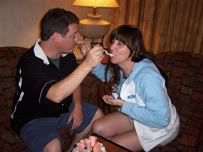 Well, the next morning we all went to Disneyland after breakfast at the hotel. Did you know you can book a table at the
Blue Bayou
(at Pirates of the Carribean) for priority seating by calling ahead - several months in advance. Apparently everyone who didn't call in lined up to get a reservation at 8 am because by the time we got there around 10:30 the place was booked solid. I pulled the "but we just got married" card and the guy said we could be seated at 11:30. Since we weren't hungry then we passed.
My husband (I need to get used to saying that instead of SO now!) and I bought a set of champagne flutes with the groom Mickey and bride Minnie on them, had them engraved with our names and our anniversary date. They now grace the mantle in the living room - at least for a while.
Then from Wednesday to Sunday morning it was the World SF Convention.
We had a wonderful time at the convention and I probably can think of lots to say - but not tonight. I'm off to Georgia early tomorrow morning for my son's graduation ceremonies from Army Basic. After I've recovered sufficiently to think straight I'll try to recap highlights of the con, if I can remember anything worth mentioning and blog them.
Here are a few pictures instead: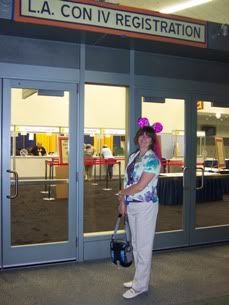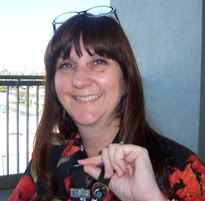 I'm holding up my badge lanyard to show the two Sputnik pins I bought at the Russian table in the dealers room at the con. Sputnik was launched in 1957 - so yes, you can blame me for the Space Race!
Dawno